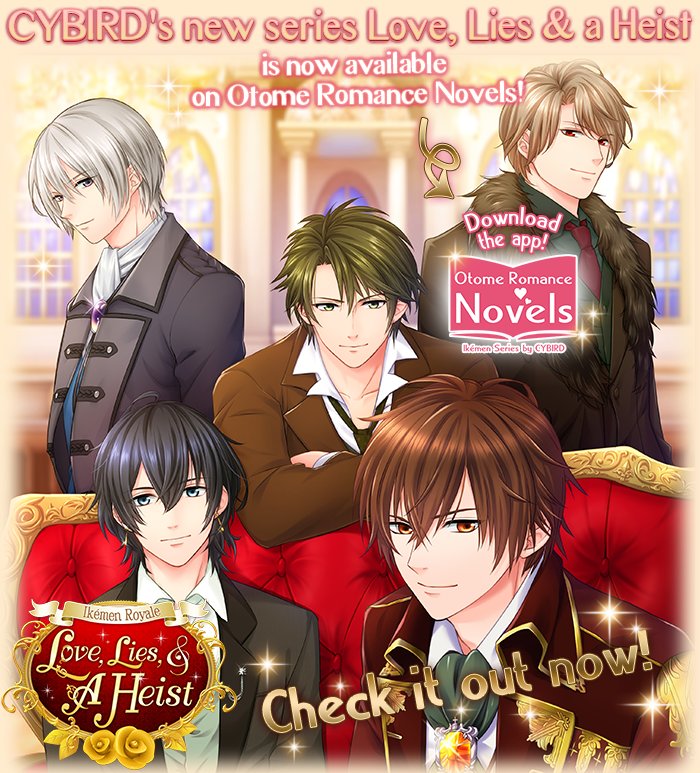 Love, Lies & a Heist is now up on Otome Romance Novels!
Highly recommend playing the game it's totally worth it!
It is a bit pricey but totally worth it!
Playing the Main Route might take you approximately 2.5 to 3.5 hours to complete. (I read pretty fast so it took quite a while to complete, only sad part was no BG music and only one CG. MC also can be an idiot, but whatever the story is still awesome!!
So here is a preview of what you can expect from the game!
Prologue: Small preview. Enjoy!
For Mature Audience Only!
Want to fix his posture. Why can't he stand up straight??
AKA: A Stupid MC LOL!!
Still waiting for Chris' route to be released!! He is one of my FAVORITE characters!
FYI: EWAN MIGHT NOT SAY MUCH, BUT HE IS PRETTY STRAIGHTFORWARD, NOT ONLY WITH WORDS BUT ACTIONS TOO.
Here is a preview of MC's victims/ candidates!
FYI: My targets are Logan, Chris, Noel. They seem like interesting characters. Though everyone else are not bad either. Harry, Luca, and Ewan, are adorable and sexy!!
All time favorite from the four available characters.
Coming Soon! How soon?? Well hopefully soon, cause I can't wait forever!!
SPOILER ALERT!!
Random Route Screenshots... won't tell you which route. You have to play the game to find out! XD
Though it might obvious. XD
Me:
LOGAN IS NOTHING LIKE 50 SHADES!!
HE IS A SWEETHEART, WHO PATIENTLY WAITS, HE IS JUST GOOFBALL WHEN HE TALKS ABOUT EMOTIONS. JUMIN ANYONE!
Hope you enjoyed the small preview.
Again I'm in love with Logan, he is a sweet heart!! he actually waits to sleep with MC till the very end unlike all the other boys. LOL!
Hope you do play the game since it's totally worth it!
As soon as the other routes are available will post them here as well!